TILE FLOORING VS VINYL FLOORING
---
When you are looking to renovate your floors with either tile or vinyl but would like some professional guidance on your choice, contact Mayflower Tiles, your local tiling experts. Our team can help you decide on the perfect material for your floors!
Which one is the best floor for you?
While renovating your floor can be a tedious project to undergo, Mayflower Tile wants to help alleviate some of that stress. One of the most difficult tasks in your flooring renovation is picking the right materials to use. Two of the most popular types of flooring are tile and vinyl. Both tile and vinyl materials have pros and cons to using them.
Vinyl Flooring
Vinyl flooring has been the traditional flooring option, outside of hardwood, for many years. As the installation and maintenance process has been reinvented, with panels of vinyl replacing sheets of vinyl, vinyl has become a cheap and easy option for homeowners to choose for their floors. While maintaining adequate durability, vinyl is also easy to replace when certain areas are damaged. While it maintains easy maintenance, vinyl is also subject to discoloration and fading due to frequent exposure to sunlight and wear and tear of use. Although it is easy to replace, vinyl also is more subject to gashes and tears from heavy furniture.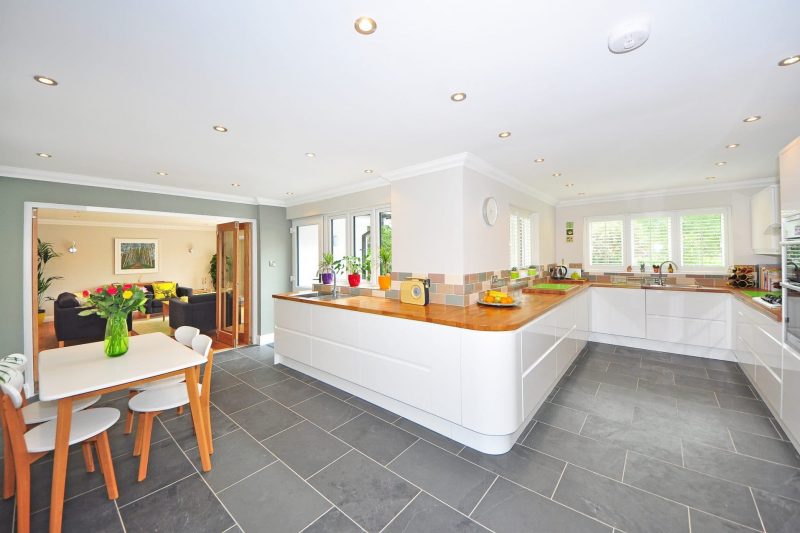 Tile Flooring
Tile floors are known for their high-end appearances at low-end prices. Ranging from simple neutral colors to elaborate designs, tiling is a reasonable option for your kitchen or bath floors. Tile's look and design can give your floors a more luxurious look.  Your tile floors could look like actual marble or granite with their designs without the cost of those textiles. With durability that outlasts vinyl, tile is better at withstanding abuse from heavy furniture. Involving a more thorough installation process, tile is less likely to undergo the same mistreatments, discoloration, and tearing that vinyl goes through. Tile floors also have the added advantage of increasing one's home value. With the higher durability and increased design options, tile floors come with more in-depth installations, which can slightly increase your project's timeline. Maintaining tiles also involves managing the grout work, which can be difficult to clean if not taken care of regularly. The general maintenance to tile is additionally simple as the installation process gives it a clean, fixed appearance.
Mayflower Tile is ready today to give you expert advice on designing and installing your new tile floors. You will love the look of your longlasting tile floors! Contact Mayflower today via the form below to discuss your tile flooring project!