KITCHEN
REMODELING

IN KENOSHA, WI
---
Are you ready to update your kitchen? The kitchen remodeling experts at Mayflower Tile service all of Kenosha and are ready to help. Let us take your kitchen from dated to ``Wow!``
Modernize Your Kitchen
Kitchen Remodeling Kenosha, WI
Looking at kitchen remodeling in Kenosha, Wi? Look no further! Kitchen styles have changed A LOT over the last few decades. If your kitchen is still living in the 80's, there's no better time than now to bring it into the 21st century!
While you're changing out those old school wood cabinets for new ones, change out that old laminate floor for a beautiful new tile floor! Or maybe add some flair with a tile backsplash! The professionals at Mayflower Tile have experience with kitchen remodeling in Kenosha of all sizes.
Mayflower Tile's professional team will work with you to find the tile floor to complete your dream kitchen! When you're ready for kitchen remodeling in Kenosha, trust the tile experts at Mayflower Tile!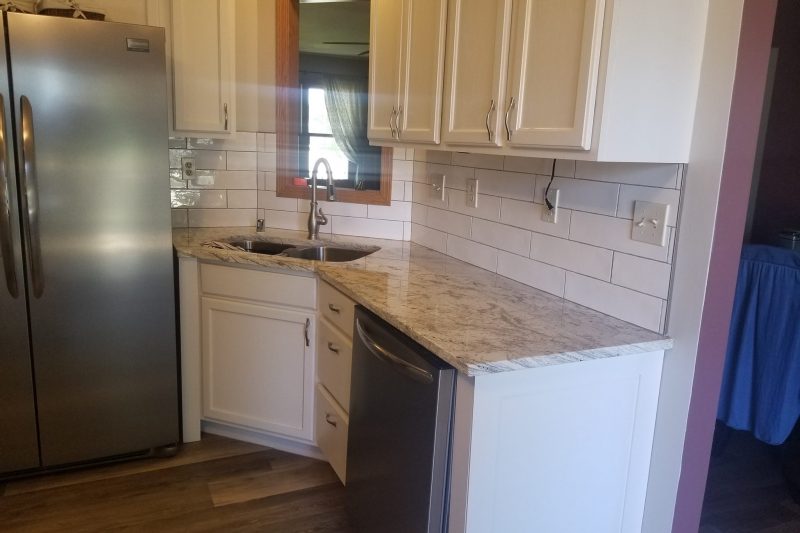 About Mayflower Tile
When you are remodeling your kitchen, you don't want to worry about the team you're working with. Mayflower Tile is a Kenosha tile company serving Southeastern Wisconsin.
We want to improve your kitchen remodeling in Kenosha in the quickest, most cost-effective way possible. We strive to provide you with the best tiling experience you could possibly have.  At Mayflower Tile we pride ourselves on how well we know tile.
Our knowledgeable staff will walk you through your kitchen renovation process step by step, so that you know where we're at from the first tile laid to the last. You can trust your kitchen remodel will go smoothly with our team at Mayflower Tile.